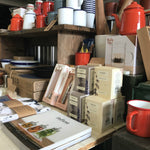 If you live in the Harrisonburg area and have yet to experience the community in Agora Downtown Market then you should consider making a visit. Agora houses a variety of small businesses and startups, all under one roof, in downtown Harrisonburg, Virginia. We count ourselves lucky to be one of them. This central location gives us a great opportunity to interact with the amazing community around us.
When you first walk into Agora you will see our shop, Lineage, to your left and The Isle Company to your right, but there is much more to the building than what meets the eye. We also have Broad Porch Coffee Co. for a quick cup of joe, zero waste items from Bring Your Own LLC, and even Randy's Market, a small hardware store where you can find just about anything. Click here to view a full list of the shops in Agora.
Though many people know us by our
waxed canvas and leather totes
, you may be surprised to walk into our store and see shelves and hangers filled with a variety of products from other local and regional makers. 
It has always been our goal to forge relationships with other craftsmen, artisans and makers who truly value their trade. These partnerships allow us to sell to a larger audience while supporting other small businesses who have our same goals in mind. We're always on the lookout for unique items to carry in our shop and adding new products on a weekly basis, with this past week being no exception. Here are just a few of our new favorites.
Worthwhile Paper Notebooks
 In our day and age, it is the expectation that everything you will ever need to remember is stored on your smartphone or laptop. And while electronics have their many benefits and aren't going anywhere fast, there is something nostalgic about pulling out a small notebook and pencil and writing down your thoughts. Whether you are developing new ideas, clearing your mind or simply staying organized, our selection of Worthwhile Paper notebooks and planners will help you stay on track. 
Oxford Pennants
Oxford Pennants
 was started in 2013 by owners Dave and Brett. Based out of Buffalo, New York they design and manufacture wool felt pennant banners and flags. One of their mottos is to "Celebrate Everything", and each unique pennant embodies that mantra.
P.F. Candle Co.
Incense has a way of relaxing the mind and body and can set the mood of a room for any occasion. 
We recently received a new shipment of products from P.F. Candle Co., and one of our favorite items is their incense sticks.  Each package of incense contains 15 hand-dipped sticks, guaranteeing you over 15 hours of burn time. Even after they are burned out, these sticks will continue to give off a light fragrance.
There are two new scents available in the shop; Black Fig and Patchouli Sweetgrass. The former infuses bright evergreen top notes with a heart of spice clove and tobacco, the latter pairs vibrant sweetgrass with creamy sandalwood and smoky cedar. 
We hope you come into our shop and see our products for yourself. Find these items and other
new arrivals online
. Or come visit us in person and introduce yourself!